Sound System B
This wireless sound system is powerful enough for a crowd of 300 people. Completely portable and runs for 6 hours on its own battery pack. Includes wireless microphone, stand and iPod cable. Excellent for voice and light background music. Rental is $75 per day.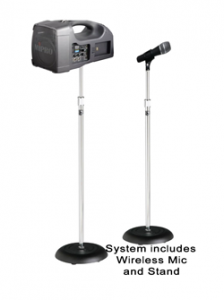 This system is perfect for:
Classrooms
Places of worship
Presentations, seminars and meetings
Day-care activities; playground duty
Indoor/outdoor gatherings
Tour guides & Paging
Street/festival performers
Fire fighters, law enforcement, search & rescue squads
To rent our systems, contact Ed Whitney at 614-861-5888 or fill out the form below.