Sound System B
This wireless sound system is powerful enough for a crowd of 150-250 people. Completely portable and runs on its own battery pack or can be plugged in for extended use. Includes wireless microphone, stand and iPod cable. Excellent for speaking and light background music. (Not for dance floor music). Rental is $75 per day.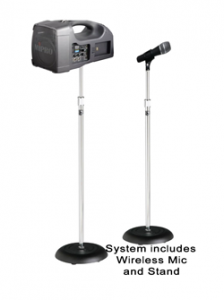 This system is perfect for:
Classrooms
Places of worship
Presentations, seminars and meetings
Day-care activities; playground duty
Indoor/outdoor gatherings
Tour guides & Paging
Street/festival performers
Fire fighters, law enforcement, search & rescue squads
To rent our systems, contact Ed Whitney at 614-861-5888 or fill out the form below.