ADD FUN TO THE DANCE FLOOR OR LIGHT UP A WALL WITH LIGHTING
Add some bling to the dance floor or a wall with lighting fixtures!
Quad Fixture A – $75.00 a pair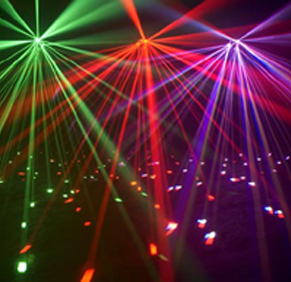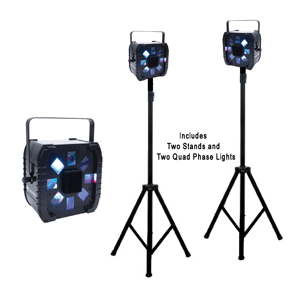 This lighting fixture is great for lighting up a dance floor or projecting on the ceiling and walls. It moves to the beat of the music and changes patterns and colors. This is an exciting stand- alone fixture that comes with a tripod stand. You just plug it in!
---
LED FLAT PAR Fixture B – $50 for 2 stands of lights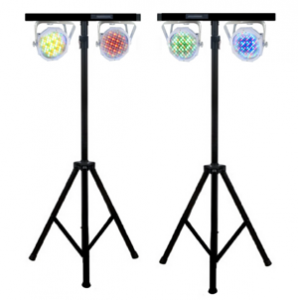 The LED FLAT PAR Fixture B has two lights per tree stand. These blink and change color to the beat of the music.  They put exciting patches of color on the dance floor or walls.  Easy to set up and operate.  Just plug them in and aim them where you want the colors.
---
LIGHTING SYSTEM C – PRO  $125 per day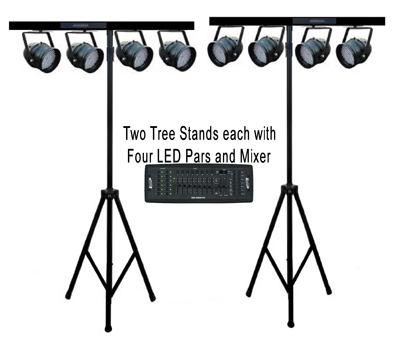 This lighting system consists of eight LED par cans on two tree stands.  It can be run by sound or manually using the included Lighting Mixer via DMX.  It is perfect for lighting up a stage or dance floor.  Color is changed via the mixer or sound activation with built in programs.  The system includes (2) 50 foot control cables. (One cable is run from the mixer to the first tree and the other cable is used to connect tree to tree.)  The entire system can be run from one 15 amp outlet.
To rent our systems, contact Ed Whitney at 614-861-5888 or fill out the form below.